Have Fun this Summer While Being Water Conscious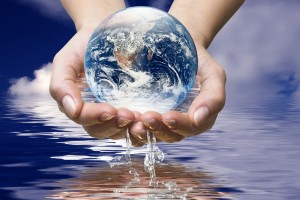 Summer means sunshine, more time with the kids and finding ways to beat the heat. The higher the temperature rises, the more tempting it becomes to take a dip in the pool or splash ourselves down with a hose.
It's a big reason water usage jumps during summer. Most days, an average family uses about 320 gallons of water per day, according to the Environmental Protection Agency. That number can rocket up to 1,000 gallons per day during summer, and some families even use up to 3,000 gallons per day.
This has an impact on both public resources and your water bill. Good thing there are a number of ways you and your family can enjoy the hot weather and stay cool without using too much water.
Here are a few ways to have fun this summer while being water conscious:
Teach Your Kids to Garden
It's never too early to teach your kids valuable lessons when it comes to maintaining the home and its surroundings. Gardening provides a way for children to acquire these skills while learning about water conservation.
A sneaky way to do this is by planting flowers that are native to your area. If they can grow naturally where you live, it's a good sign, these plants can handle the weather and therefore don't need to be watered often.
All the while, your kids will learn the value of starting and finishing a project and gain good habits when it comes to upkeep.
Two-For-One: Water Your Lawn and Stay Cool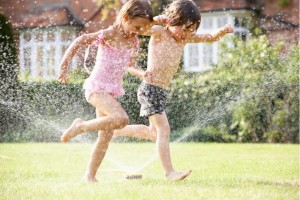 A lot of the extra water used during summer is for landscaping. After all, keeping grass green and flowers looking beautiful requires regular watering. If you want to hit two birds with one stone, you can stay cool on a hot day while watering your lawn and garden.
Install a sprinkler and give yourself a way to simultaneously distribute water across your property while giving your family a fun way to find relief while under the sun. Your family can jump through the water jets while the sprinkler takes care of the yard. Don't have a sprinkler? Use a hose and have your kids take turns jumping through the stream.
Take Advantage of the Local Pool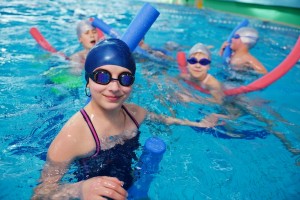 Another way to reduce water consumption at home is to take a trip to the local pool to cool off on a hot day. Make use of a public resource instead of using your own water.
These pools are always staffed during operating hours by well-trained lifeguards who will always be at hand to help with any problems. You and your spouse can kick back while your children play with other kids from the neighborhood. Public pools are designed to be used by locals, so you might as well enjoy them.