Annapolis Water Heater Repair & Installation
Need immediate water heater services? Don't take one more cold shower. Call us today at (410) 268-7191 to work with your local Annapolis water heater repair and replacement technicians.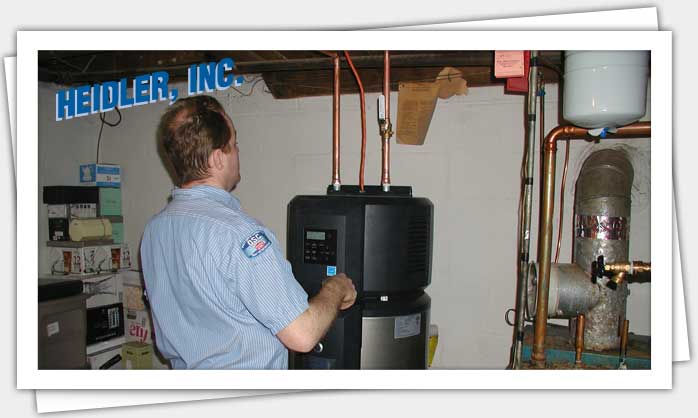 Tired of having to take a cold shower in the morning because your water heater isn't working as efficiently as it used to? Call the experts that will make your life easier. Heidler, Inc. is your reliable Annapolis water heater repair team. We are ready to help you enjoy the hot water you need. Whether you need to repair your current water heater or replace a failing unit, we have you covered.
See why upgrading to a tankless water heater might be the best move you can make for you home!
What is causing your water heater problem?
When your water heater starts to show signs of trouble, the problem is often traced to one of two causes:
Sediment buildup: This is one of the most common causes of water heater problems. It can decrease hot water flow and lead to tank corrosion. In many cases, sediment can be flushed out. We recommend yearly flushing to keep your tank free of abrasive elements.
Faulty parts: If you have an electric water heater, a faulty thermostat or a tripped breaker can cause problems. If you have a gas unit, the pilot light may go out, resulting in little or no hot water.
The age of your water heater can also affect its efficiency. Traditional water heaters last 7-10 years. Tankless water heaters have a longer lifespan at 15-20 years; these units also tend to have longer manufacturer warranties. Regular maintenance and good water quality go a long way in extending the life of your water heater.
When should you choose to repair vs. replace?
Not sure if your water heater should be repaired or replaced? Contact us for a diagnosis and we will let you know your options. The age and condition of your water heater are some of the factors to take into consideration when deciding whether to repair or replace your unit. If your water heater is close to 10 years old and exhibiting frequent problems, replacement may be the more cost-effective option.
While replacing your water heater involves a higher initial investment, you can actually save more down the road with a new unit installed. New water heaters are 20 percent more efficient than older units. This helps cut down on your energy bill, keeping it at a reasonable rate.
If your water heater is only a few years old and only has a minor problem, repairing it may be best. If the cost of replacing damaged parts is inexpensive, you may want to consider repairing your water heater and scheduling regular maintenance.
Help your water heater last longer by installing a water softener in your home!
How can you avoid problems in the future?
Regular professional maintenance is key to preventing water heater problems. Your water heater should be inspected by a professional at least once a year. During routine maintenance, we will check the pressure relief valve and other vital elements, as well as check the tank for corrosion and rust. We will also drain the tank to remove any sediment that has built up inside.
Trust Heidler, Inc. for all of your water heater needs. Whether you have a tank that is leaking from corrosion or a broken heating element that needs to be replaced, we have the right solution. Call us at (410) 268-7191 to start enjoying hot water once again.