Your Odenton Plumber
Work with the Odenton plumbers who care. Heidler, Inc. provides flat rates and long term plumbing solutions. Call today at (410) 268-7191.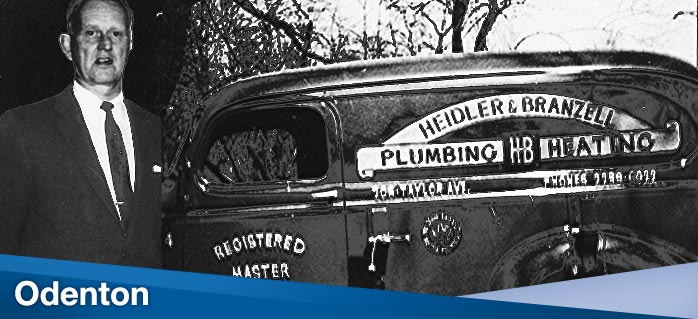 Heidler, Inc. makes sure you receive top of the line plumbing services when it comes to clogged drains, bathroom or kitchen remodeling, and water heater repair. We are your local Odenton plumbers dedicated to quality services to ensure long term efficiency.
Get to know Heidler, Inc. when you visit our about us page!
What are signs it's time to repair your sewer line?
It may be time to call for sewer line repair if the following occur:
Sewage in your yard: Do you notice mushy, sunken areas in your yard? The soaked patches of ground indicate a leak from a damaged or clogged sewer line.
Foul odors: Sewer odors coming from your drains indicate a leaking sewer line.
Gurgling toilet: Does your toilet make a gurgling sound after you flush? Is your toilet failing to fill properly? These are other signs of a damaged sewer line.
Do you need professional drain cleaning?
Are your drains frequently clogging? Call us for drain cleaning solutions guaranteed to work.
Plungers fail to solve the problem: If you have tried using a plunger to unclog a drain but the problem persists, you will need our help to completely remove the clog. We will use sewer video inspections to locate the clog and eliminate it from your sewer and drain lines.
Multiple clogged drains: Do you have several drains in your home that are clogged? This indicates a serious clog farther in your sewer line.
Drains backing up: If water or sewage starts to back up from your drains, you need immediate sewer line repair.
You can find great specials and discounts on our coupons page.
When is it time to replace your water heater?
If you have an older water heater that has been operating for over 10 years, you may notice frequent problems—from faulty heating elements to leaking tanks. In some cases, replacement may prove more cost-effective. A new water heater will be more efficient and help you keep your energy costs at a reasonable rate.
Below are common signs your water heater should be replaced:
Your water heater needs frequent repairs
Lack of hot water
The tank is corroded or leaking
High energy bills due to a water heater that needs to work harder than normal
Local Reviews
for Odenton, MD
Heidler Inc
Rated
4.8
out of 5 stars based on
40
customer reviews
Powered by Nearby Now
---
Annual Furnace Check
Jim Conrad

-

Odenton

,

MD



Review of Heidler Inc
I am always satisfied with Heidler. They are professional and very competent. I have been a customer for over 40 years.
---
Great job
Tufts

-

Odenton

,

MD



Review of Heidler Inc
Problem fixed. Andrew and Bruce did a great job.
---
Needed two trips to get the job done
Savage

-

Odenton

,

MD



Review of Heidler Inc
Over the Memorial Day Holiday weekend our hot water heater stopped working. I called Heildler on Tuesday after Memorial day. The Technicians installed a new water heater. Unfortunately the new heater did not work. In addition, they left debris on the floor of our living area. The technician had a mask and wore it some of the time; however, he did not wear it most of the time. His assistant wore his mask all the time. Neither wore protective foot coverings over their shoes. The following morning I called Heildler to report the problem thinking that the heater may be defective. As it turned out, the problem was with the installation. There was air in the gas line that was the source of the problem. In addition one of the joints was dripping and had to be repaired. To Heilder's credit, the problem was promptly remedied.
---
Quick fix for water heater
David

-

Odenton

,

MD



Review of Heidler Inc
We were getting inconsistent heating on our aquatherm system when the values circulating from our water heater to the air handler were open. The technician quickly identified the problem and installed a check valve. Now we can enjoy both a hot shower and a warm home. Thanks for the prompt service and answers to all my questions.
---
Quickly fixed water heater
David

-

Odenton

,

MD



Review of Heidler Inc
The folks at Heidler are terrific. I have a hot water heater problem. When I called on Monday, a technician arrived the same day. They needed to order a part from the manufacturer who sent it overnight and an appointment to finish the job was set for the next morning. The technician was professional having diagnosed the problem very quickly. He patiently described what needed to be done, answered my questions and told me what to do in the meantime. This is not the first time we have used Heidler and they have worked on many projects within our condo community. They deserve your business.
---
Kae A.
Gas log repair, kitchen faucet replacement
Near
Brightwater Ct,

Odenton

,

MD

21113
Kae A.
Gas log repair
Near
Mericrest Way,

Odenton

,

MD

21113
Kae A.
Gas log service
Near
Brightwater Ct,

Odenton

,

MD

21113
Carol T.
Installed owner supplied kitchen faucet & water closet
Near
Emerald Way,

Odenton

,

MD

21113
Kae A.
Performed heating maintenance
Near
Winer Rd,

Odenton

,

MD

21113
Your home deserves superior plumbing solutions. Work with the plumbers who have been solving your neighborhood's problems for over 65 years. Call Heidler, Inc. today at (410) 268-7191 for flat rates on all plumbing services.