Your Odenton Plumber
Work with the Odenton plumbers who care. Heidler, Inc. provides flat rates and long term plumbing solutions. Call today at (410) 268-7191. Click here to view our current specials and discounts.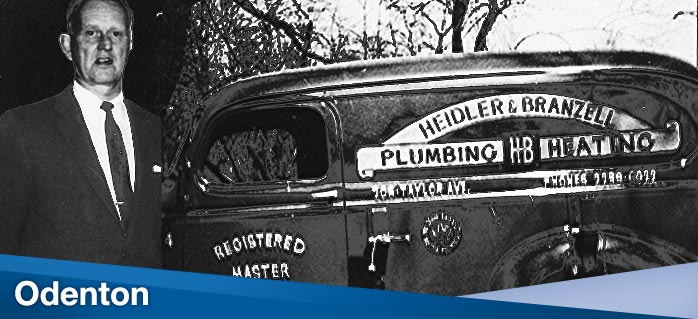 Heidler, Inc. makes sure you receive top of the line plumbing services when it comes to clogged drains, bathroom or kitchen remodeling, and water heater repair. We are your local Odenton plumbers dedicated to quality services to ensure long term efficiency.
Want to see what your neighbors have been saying about our services? Click here to read our latest customer reviews.
What are signs it's time to repair your sewer line?
It may be time to call for sewer line repair if the following occur:
Sewage in your yard: Do you notice mushy, sunken areas in your yard? The soaked patches of ground indicate a leak from a damaged or clogged sewer line.
Foul odors: Sewer odors coming from your drains indicate a leaking sewer line.
Gurgling toilet: Does your toilet make a gurgling sound after you flush? Is your toilet failing to fill properly? These are other signs of a damaged sewer line.
Do you need professional drain cleaning?
Are your drains frequently clogging? Call us for drain cleaning solutions guaranteed to work.
Plungers fail to solve the problem: If you have tried using a plunger to unclog a drain but the problem persists, you will need our help to completely remove the clog. We will use sewer video inspections to locate the clog and eliminate it from your sewer and drain lines.
Multiple clogged drains: Do you have several drains in your home that are clogged? This indicates a serious clog farther in your sewer line.
Drains backing up: If water or sewage starts to back up from your drains, you need immediate sewer line repair.
When is it time to replace your water heater?
If you have an older water heater that has been operating for over 10 years, you may notice frequent problems—from faulty heating elements to leaking tanks. In some cases, replacement may prove more cost-effective. A new water heater will be more efficient and help you keep your energy costs at a reasonable rate.
Below are common signs your water heater should be replaced:
Your water heater needs frequent repairs
Lack of hot water
The tank is corroded or leaking
High energy bills due to a water heater that needs to work harder than normal
Reviews powered by Nearby Now
---
Kris S.
Furnished and installed Rinnai tankless natural gas water heater.
Near
Saran Ct,
Odenton
,
MD
21113
---
Kris S.
Worked on backflow repairs and water main.
Near
Moonglow Rd,
Odenton
,
MD
21113
---
Tina D.
REPLACED CONTROL BOARD
Near
Wintergreen Ct,
Odenton
,
MD
21113
---
Kris S.
Performed two backflow device certifications. Installed Zoeller ProPack sump pump and backup system.
Near
Levee Dr,
Odenton
,
MD
21113
---
Kris S.
Replaced master bathroom and powder room toilets with Kohler Cimarron comfort height toilets in biscuit.
Near
Lions Gate Ln,
Odenton
,
MD
21113
---
Kris S.
Repaired/replaced water main piping.
Near
Moonglow Rd,
Odenton
,
MD
21113
---
Kris S.
Replaced basement toilet with Kohler Wellworth toilet.
Near
Lions Gate Ln,
Odenton
,
MD
21113
---
LaShawn S.
Found 3" ferno off center and not connected properly for toilet line. Cut out and replaced to repair leak. The sewer line that was leaking only services Unit# 302 toilet.
Near
Moonglow Rd,
Odenton
,
MD
21113
---
LaShawn S.
Opened hold in ceiling, no plumbing lines in ceiling. Found a/c line set and ductwork. Neither were wet/ Possible isolated incident from above unit.
Near
Forest Walk Ln,
Odenton
,
MD
21113
---
Kris S.
Replaced faulty check valve and tested sump pump for proper operation.
Near
Resty Ln,
Odenton
,
MD
21113
Your home deserves superior plumbing solutions. Work with the plumbers who have been solving your neighborhood's problems for over 65 years. Call Heidler, Inc. today at (410) 268-7191 for flat rates on all plumbing services.