Your Pasadena Plumber
Looking for a reliable Pasadena plumber to return your home to normal? Call Heidler, Inc. at (410) 268-7191 for immediate service.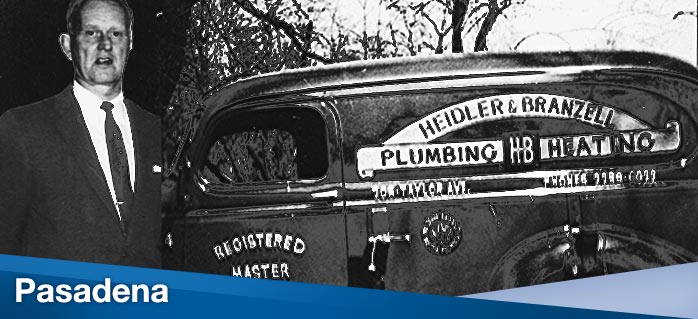 Regular plumbing maintenance can prevent common problems. However, if you haven't been scheduling routine maintenance services, don't worry. We can help you fix a range of plumbing problems, from clogged drains to faulty water heaters. Heidler, Inc. is your local Pasadena plumber focused on delivering tailored solutions to your specific needs.
Wondering why we're Pasadena's favorite plumbing and heating company? Check out our reviews page to find out!
What are signs it's time for sewer line repair?
There are simple ways to tell if your sewer line is in trouble:
Slow draining sinks, showers, or tubs
Sewer water puddling on your lawn
Foul smells coming from your drains
Toilet has trouble flushing
Drains overflow with sewer waste
These signs indicate a leak in the sewer line; there could also be a clog from debris buildup, invasive tree roots, or corrosion. Avoid sewer backing up into your home and call your plumber at Heidler, Inc. for immediate service.
Need professional drain cleaning services?
Have you tried to clear a clog using a plunger or chemical drain cleaner? These may work in the meantime, but they are only short term solutions. To avoid recurring clogs, you need to completely remove the blockage from your pipes. This is where we come in. We have the tools to locate the blockage and flush it out using hydrojetting.
How do you know if it's time to call for professional drain cleaning? Contact us if you notice these signs:
Water backing up from the drain
Foul odors coming from the drain
Water draining slower than normal
Clog continues to recur
Contact us today to learn more about the plumbing services we offer in Pasadena!
Is it time to replace your old water heater?
Avoid cold showers in the morning with an upgraded water heater.
What are signs you need to replace your water heater?
Age: Is your water heater more than 10 years old? Older models will need repairs more often, and replacing your entire unit will prove more effective in the long run.
Corrosion: You will also need to replace your water heater if the tank is corroded. You will be alerted to this problem by the brownish or reddish-brown water coming out of your faucet.
Damaged connections: If any of the gas connections or mechanisms become damaged, you will also have to replace the water heater.
An effective way to avoid these problems is to schedule annual maintenance. Regular water heater inspections allow you to stay ahead of potential issues and have them fixed before further problems develop.
Local Reviews
for Pasadena, MD
Heidler Inc
Rated
4.8
out of 5 stars based on
13
customer reviews
Powered by Nearby Now
---
Timely, knowledgeable and great price
Freyman

-

Pasadena

,

MD



Review of Heidler Inc
---
Very pleased
Lewis

-

Pasadena

,

MD



Review of Heidler Inc
On time and explained all work done Used shoe covers and very polite
---
Great Service
Kim

-

Pasadena

,

MD



Review of Heidler Inc
The Heidler technician was professional and courteous. I am pleased with the service.
---
Great Heidler Service
Connie

-

Pasadena

,

MD



Review of Heidler Inc
I just received great service from Heidler, in which they ran a water line for my new fridge with an ice and water dispenser. An appointment was booked quickly, the plumber arrived on time, the expense was explained ahead of time, and the work was completed satisfactorily. I will likely use Heidler again for future home services.
---
Fantastic Service!
Michelle

-

Pasadena

,

MD



Review of Heidler Inc
They came out for 4 jobs but only charged us for 2 of them, took care of the other small requests gratis!
---
Kae A.
Replaced 50gl electric water heater and adjusted hall tub waste and overflow pipe to fit correctly.
Near
Christy Rd,

Pasadena

,

MD

21122
Kae A.
Did PMA
Near
Paradise Beach Rd,

Pasadena

,

MD

21122
Kae A.
Leak search
Near
Ritchie Hwy,

Pasadena

,

MD

21122
Kae A.
plumbing repairs
Near
Riverside Dr,

Pasadena

,

MD

21122
Kae A.
toilet repair
Near
Rossburg Ct,

Pasadena

,

MD

21122
Find out how we can help you out of your worst plumbing problems. You can expect your Heidler technician to arrive on time and provide only high quality solutions. Call us today at (410) 268-7191.