Your Arnold Plumber
Do you need professional plumbing and heating services? Tired of relying on contractors who just aren't getting the job done? Call your local Arnold plumbers who will fix the problems other contractors have created. Contact Heidler, Inc. today at (410) 268-7191 to schedule an immediate service.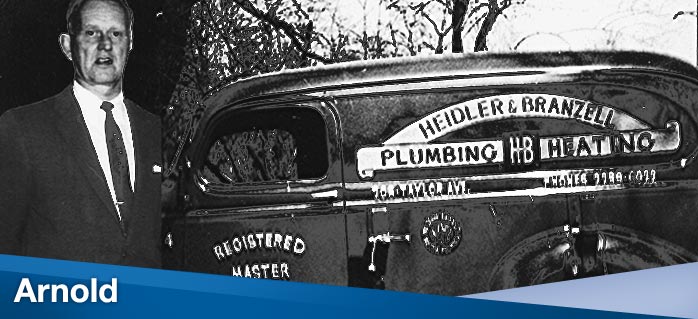 At Heidler, Inc., we perform thorough inspections to get to the source of your plumbing problem. We are the Arnold plumbers your neighbors have trusted since 1947.
Don't wait to repair your damaged sewer line
Your sewer line is the main passageway for wastewater. It is often located in the front yard and extends from the main structure to the street's mainline.
Below are two common signs your sewer line needs immediate attention:
Soggy yard: If the sewer line is leaking, it will slowly saturate the soil in your yard. This waste will eventually lead to the surface.
Clogs: If your sewer line is blocked, you will notice the problem through your home's drains. Toilets and sink drains will clog simultaneously if there is a problem in your sewer line.
Contact us to have these problems resolved. Wastewater that seeps into your home can damage your flooring and drywall, and can even lead to health problems.
Need professional drain cleaning solutions?
You may have a plunger handy to unclog small blockages in your sink or toilet. However, a plunger is only a temporary solution. To relieve your drains for good, you will need to completely remove the blockage. This is where we come in. Heidler, Inc. has the tools to eliminate blockages and free your drains for the long term.
We recommend scheduling preventive maintenance services at least once a year. This includes clearing out pipes and evaluating your plumbing lines for hairline cracks.
If you notice these problems below, contact us for professional drain cleaning:
Slow drains: A slow-draining sink is a prominent sign that your drain may be clogged from sediment buildup, grease, hair, food items, and even corrosion. For severe clogs in your sewer line, we will use hydrojetting technology to safely clear out your drains without using chemicals.
Frequent toilet clogs: If your toilet is constantly clogging, there may be a clog farther in your sewer line. Excessive toilet paper, tree root growth in the lines, and significant debris buildup are common culprits.
We will use sewer cameras, locator devices, and hydrojetting to eliminate the worst clogs.
Visit our reviews page to see what your neighbors have to say about our services.
When should you replace your water heater?
Your water heater plays a large part in your home's comfort. Replacing the water heater is recommended before it passes the 10-year mark. At this stage, your water heater's parts are more difficult to find and overall efficiency is at a minimum. You want an energy-efficient model that can last upwards of 15 years, which can help you save on monthly utility bills.
Keep an eye out for signs your water heater is failing. We recommend annual maintenance to catch problems before they develop into larger issues.
Local Reviews
for Arnold, MD
Heidler Inc
Rated
4.8
out of 5 stars based on
292
customer reviews
Powered by Nearby Now
---
Fast neat and clean service
Capt

-

Arnold

,

MD



Review of Heidler Inc
Excellent knowledge of solution and outstanding performance with no wasted time.
---
Toilet repair
Linda

-

Arnold

,

MD



Review of Heidler Inc
I am always glad when Chuck is the person you send out! He is methodical and thorough, and he explains everything he is doing. Thanks for fitting me in on such short notice. Chuck was on time!
---
Excellent service, and timely!
Mary

-

Arnold

,

MD



Review of Heidler Inc
The job I needed done was not a huge major project, but Steve Heidler provided very quick, excellent service. The work was done perfectly and courteously. I can highly recommend Heidler plumbing!
---
Excellent Service
John

-

Arnold

,

MD



Review of Heidler Inc
It was a complicated problem, which was not initially obvious. I also think that it was "masked" by the first problem, fixed earlier by Chuck, and not overlooked or missed. It only became apparent after a few days.
---
Great Service
John

-

Arnold

,

MD



Review of Heidler Inc
Chuck was presented with a situation more complex than I originally thought. He handled it quite well.
---
Justine A.
Technician Chuck installed customer suppled toilet seat and replaced faucet aerator on 10/12/2021
Near
Holly Dr N,

Arnold

,

MD

21012
Justine A.
Chuck performed a gas water heater flame arrester cleaning service on 10/06/2021
Near
Oakland Hills Dr,

Arnold

,

MD

21012
Justine A.
Gas log maintenance on 10/04/2021
Near
Schoolers Pond Way,

Arnold

,

MD

21012
Justine A.
Perform heat maintenance, installed new boiler feed w/ backflow
Near
Ashcroft Ct,

Arnold

,

MD

21012
Justine A.
Installs owner supplied bar faucet and drain
Near
Nomini Dr,

Arnold

,

MD

21012
Get flat-rate pricing and long term plumbing solutions with Heidler, Inc. Contact us today at (410) 268-7191 to schedule an immediate service call.