Your Edgewater Plumber
Need professional plumbers you can rely on? Call your local Edgewater plumbers from Heidler, Inc. at (410) 268-7191. Click here to access our latest specials and discounts.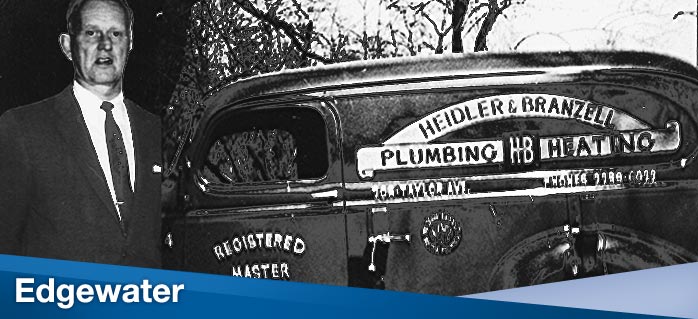 Looking for premier plumbing and heating services in your area? Heidler, Inc. is your Edgewater plumber, providing high-quality solutions at competitive rates. We are available for immediate repair, replacement, and maintenance services to keep your property in superior condition.
Read our latest customer reviews here.
What are signs it's time to repair your sewer line?
Sewer line problems often stem from these causes:
Ground settling
Tree roots growing in the line
Hard water damage
If your sewer line is leaking, immediate repair is recommended. Below are signs of a broken sewer line:
Smell of sewage in your yard
Sewage odors wafting up from your drains
Sewage waste puddling in the yard
Toilets struggling to flush
If you notice any of these signs, you may have a broken sewer line. Contact us for the right solution.
Looking for professional drain cleaning services?
Your drain line can become clogged over time. Some clogs partially block the pipes, while others may fully block it. Depending on the severity of the clog, you may notice that water does not drain from your sink, shower, or tub.
Our plumbing professionals will provide a fast solution, using methods that include sewer cameras and hydrojetting to eliminate these clogs once and for all. You will enjoy clog free drains in no time.
Need to replace your water heater?
Many of our customers ask us if they should replace or repair their water heater. Some may replace the unit before it is necessary in order to enjoy greater energy savings. Others may wait until their water heater is no longer functional to call for replacement.
If a repair is more cost-effective for you, we will discuss the necessary repair work and provide you with a recommendation for regular maintenance and inspections.
Reviews powered by Nearby Now
---
Kris S.
Located water service.
Near
Collinson Lee Ln,
Edgewater
,
MD
21037
---
Tina D.
Replaced pressure relief switch on well
Near
S River Terrace,
Edgewater
,
MD
21037
---
Kris S.
Flushed Rinnai RL94 tankless water heater heat exchanger and cleaned burner.
Near
Edgemont St,
Edgewater
,
MD
21037
---
Kris S.
Cleared master bathroom toilet stoppage.
Near
Edgewater Dr,
Edgewater
,
MD
21037
---
Kris S.
Unjammed garbage disposal
Near
Hamlet Club Dr,
Edgewater
,
MD
21037
---
Kris S.
Furnished and installed AprilAire humidifier
Near
Riverton Pl,
Edgewater
,
MD
21037
---
Kris S.
Replaced leaking water heater.
Near
Southport Dr,
Edgewater
,
MD
21037
---
Kris S.
Repaired pipe leaks to outside shower and installed valves for winterizing.
Near
Paca Dr,
Edgewater
,
MD
21037
---
Kris S.
Replaced batteries in HVAC thermostat, and replaced customer's whole house water filter. Found LP tank needs to be refilled, left switch to furnace off until tank is refilled by others.
Near
River Club Dr,
Edgewater
,
MD
21037
---
Kris S.
Repaired Newport Brass master bathroom tub faucet.
Near
Shadow Point Ct,
Edgewater
,
MD
21037
Do you have an urgent pluming problem? Need advice on whether to repair or replace your water heater? Call us today at (410) 268-7191 for professional solutions and guaranteed upfront, flat rates.