Your Edgewater Plumber
Need professional plumbers you can rely on? Call your local Edgewater plumbers from Heidler, Inc. at (410) 268-7191. Click here to access our latest specials and discounts.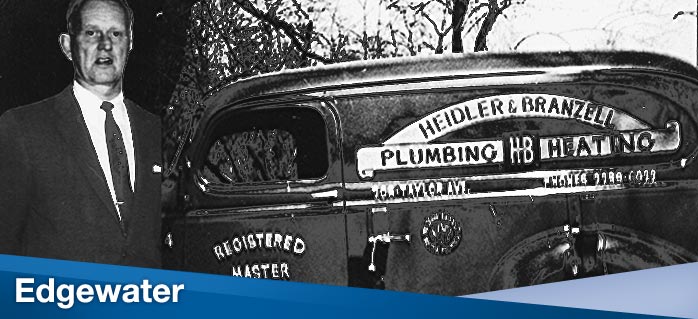 Looking for premier plumbing and heating services in your area? Heidler, Inc. is your Edgewater plumber, providing high-quality solutions at competitive rates. We are available for immediate repair, replacement, and maintenance services to keep your property in superior condition.
Read our latest customer reviews here.
What are signs it's time to repair your sewer line?
Sewer line problems often stem from these causes:
Ground settling
Tree roots growing in the line
Hard water damage
If your sewer line is leaking, immediate repair is recommended. Below are signs of a broken sewer line:
Smell of sewage in your yard
Sewage odors wafting up from your drains
Sewage waste puddling in the yard
Toilets struggling to flush
If you notice any of these signs, you may have a broken sewer line. Contact us for the right solution.
Looking for professional drain cleaning services?
Your drain line can become clogged over time. Some clogs partially block the pipes, while others may fully block it. Depending on the severity of the clog, you may notice that water does not drain from your sink, shower, or tub.
Our plumbing professionals will provide a fast solution, using methods that include sewer cameras and hydrojetting to eliminate these clogs once and for all. You will enjoy clog free drains in no time.
Need to replace your water heater?
Many of our customers ask us if they should replace or repair their water heater. Some may replace the unit before it is necessary in order to enjoy greater energy savings. Others may wait until their water heater is no longer functional to call for replacement.
If a repair is more cost-effective for you, we will discuss the necessary repair work and provide you with a recommendation for regular maintenance and inspections.
Reviews powered by Nearby Now
---
Kris S.
Installed trim for two shower valves.
Near
Monarch Dr,
Edgewater
,
MD
21037
---
LaShawn S.
Used high pressure air gun to open blockage and cleared condensate stoppage. Poured 12 gallons of water down the line and half gallon of bleach.
Near
Glebe Meadow Way,
Edgewater
,
MD
21037
---
LaShawn S.
Ran 110' of sewer cable with 1500 sewer machine. Ran through toilet flange. Customer pulled and will set toilet. Talked to customer about possibly installing a c/o outside.
Near
Riverside Rd,
Edgewater
,
MD
21037
---
Kris S.
Repairing Kohler kitchen faucet with customer's parts.
Near
Southport Dr,
Edgewater
,
MD
21037
---
LaShawn S.
Found hot side service stop was cracked. Replaced to resolve issue.
Near
Sundee Dr,
Edgewater
,
MD
21037
---
Kris S.
Replaced hot surface igniter to restore normal operation of A.O. Smith LP gas power vent water heater.
Near
Cadle Creek Rd,
Edgewater
,
MD
21037
---
LaShawn S.
Replaced leaking relief valve and expansion tank on water heater.
Near
Bay Dr,
Edgewater
,
MD
21037
---
Kris S.
Replaced 40/60 well pressure switch, and clogged gate valve with new ball valve on well water system, to restore normal water pressure to faucets.
Near
Edgewater Dr,
Edgewater
,
MD
21037
---
LaShawn S.
Found O/D wire on contractor backwards. Fixed wire and tested system, everything working correctly.
Near
Shore Dr,
Edgewater
,
MD
21037
---
LaShawn S.
Removed air gap and cleaned all parts. Cleaned garb disposal intake. All draining properly now.
Near
Hamlet Club Dr,
Edgewater
,
MD
21037
Do you have an urgent pluming problem? Need advice on whether to repair or replace your water heater? Call us today at (410) 268-7191 for professional solutions and guaranteed upfront, flat rates.