Your Crofton Plumber
Looking for professional Crofton plumbers? Call Heidler, Inc. at (410) 268-7191 for fast solutions.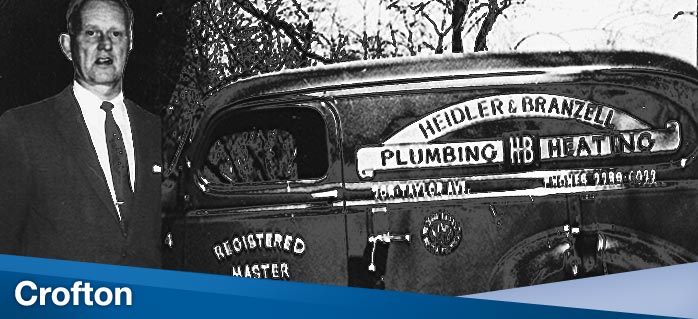 Has your home's plumbing become a regular problem? Tired of recurring issues with your sewer line or drains? Trust your local Crofton plumbers at Heidler, Inc. for immediate service.
Make sure to check out our blog for great plumbing tips and tricks!
What are some common sewer line problems?
Have a leaking, cracked, or damaged sewer line? Contact Heidler, Inc. for an inspection. We will locate the exact area of damage and carry out the most effective method of repair. Severe problems will leak swage onto your yard, filling your once beautiful lawn with sewer water.
How can you tell if it's time to call for professional sewer line repair?
Do you hear gurgling noises coming from the toilet? This indicates a clog in your sewer line.
Is water form your sink or shower draining slower than usual? This is another sign that there is a clog farther along the line.
Do you notice sewage puddling in your yard, where your sewer line is located? There is a leak that needs to be handled immediately. Contact us to get the problem resolved as quickly as possible.
How do you know if you need professional drain cleaning?
Clogged drains may lead to damaged pipes, including leaking and bursting. A burst pipe can quickly lead to flooding and significant water damage.
What are the signs that you need professional drain cleaning?
Are your drains frequently clogged? Your shower and sink drains are prone to clogging from soap and hair buildup. If you have used a plunger or chemical cleaner, but the clog returns, you are not removing the clog entirely. There is likely a blockage farther in your sewer line.
Are sewer odors wafting up from your drain? Let us inspect your line to determine the source of the problem.
Want to save big on your next service? Visit our coupons page to see all the deals we're cutrrently offering.
When should you replace your water heater?
Below are signs it is time to repair or replace your water heater:
Do you notice puddles under your water heater? Puddles forming in the safety pan underneath indicate a leak in your water heater. When this happens, replacement is recommended.
Is your water heater making unusual sounds? This may be due to a faulty component, or there could be sediment buildup in your water heater tank.
Water heaters last about 7-10 years. If you have an older unit that is frequently having problems, we will help you determine if a repair or replacement is more cost-effective. We will recommend the right water heater that fits your needs and budget.
Local Reviews
for Crofton, MD
Heidler Inc
Rated
4.8
out of 5 stars based on
79
customer reviews
Powered by Nearby Now
---
New Spigots - Great Service
Rick

-

Crofton

,

MD



Review of Heidler Inc
Had 2 new outdoor spigots installed. Not as easy as it sounds due to location of plumbing and access. Both technicians were great - and very professional. They always wore foot coverings or removed their shoes, even after I said it wasn't necessary. They also wore face masks. They explained what needed to be done, did the work, and then explained what they did. All on the hottest day of the year so far. Price was right for what they had to do. Appreciate it. I will be calling Heildler again!
---
Continued outstanding service
Buhr, Carol

-

Crofton

,

MD



Review of Heidler Inc
I have Heidler as both my plumbing and my HVAC maintenance service company. All of their service persons are too I. Their field, honest, respectful of me and my home, and are prompt to their appointments. I tell all my friends about them, a, hopefully they too will call Heidler when needed. I have service contracts with them and find this gives me peace of mind. Carlos recently serviced my HVAC for the summer and he was THE best. I ask for him when my HVAC is needing service. Wonderful company.
---
Great
Charles

-

Crofton

,

MD



Review of Heidler Inc
Neal--not Kris--was the technician; Scott was the assistant. Neal was great
---
Excellent
Buhr

-

Crofton

,

MD



Review of Heidler Inc
Carlos came to do my spring inspection and as is always the case, he was prompt arriving, thorough in his inspection, and clear in his summary. Heidler is the BEST!
---
excellent service and reasonable cost
Guntow

-

Crofton

,

MD



Review of Heidler Inc
If we have work to be done that can be performed by Heidler, they will always be the first we call.
---
Kae A.
HVAC service
Near
Shaftsbury Ave,

Crofton

,

MD

21114
Kris S.
Replaced two outside hose bibs.
Near
Swinburne Ave,

Crofton

,

MD

21114
Kae A.
HVAC maintenance
Near
Eton Way,

Crofton

,

MD

21114
Kae A.
Toilet repair
Near
Reading St,

Crofton

,

MD

21114
Kae A.
Leak search
Near
Lowell Ct,

Crofton

,

MD

21114
Need immediate plumbing assistance in the Crofton area? Call Heidler, Inc. today at (410) 268-7191 for prompt service, flat rates, and quality solutions.