Your Severn Plumber
Need a reliable Severn plumber? Heidler, Inc. will not let you down. You will receive prompt service and solutions that last. Call (410) 268-7191 to schedule an immediate service.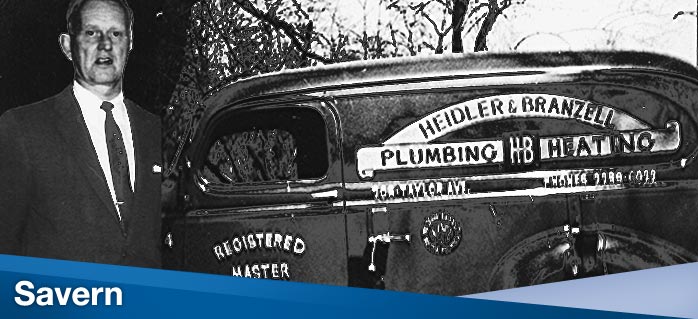 Are you stressed about your plumbing? You don't have to tackle your problem alone. Contact Heidler, Inc. for solutions you can trust. We are your local Severn plumbers dedicated to superior customer service and long term solutions.
Want to know more about Heidler, Inc.? Visit the about us page to learn all about who we are and what we do!
What are signs you need sewer line repair?
Be on the lookout for these signs that call for immediate sewer line repair:
Foul drain smell: A damaged sewer line can lead odors through your drains.
Toilet problems: Damaged sewer lines can also make it difficult to flush your toilet. Other problems include clogging and overflowing.
Slow drains: A clog in your sewer line can affect normal drain flow, resulting in slow draining sinks, shower, and tubs. We will carry out a thorough sewer line inspection to determine the best solution and discuss your options.
When should you call for professional drain cleaning?
Can't seem to get rid of a clog in your drain? Does it keep recurring even after you have tried the plunger and various chemical solutions? Let us help by completely removing the blockage from your drains.
Below are signs it's time to call for professional drain cleaning:
Multiple clogged drains: This points to a problem in your sewer line that is affecting your bath drains.
Slow drains: Are your drains emptying slower than usual? Your pipes may have narrowed flow due to debris buildup.
Foul drain odors: Do you smell sewer odors coming from your drains? This is often a clog in your drain or sewer line.
You can always find great plumbing tips and tricks on our blog!
When should you replace your water heater?
The typical lifespan of a water heater is 7-10 years. A water heater reaching this mark will need to be replaced if it is frequently exhibiting problems.
The older your water heater, the more likely leaks will form around the base of the tank. This is caused by corrosion from the minerals found in hard water.
Another sign that your water heater needs to be replaced is if you notice inconsistent heating. Let our experts solve your water heater issue so you can enjoy the hot water you need.
Local Reviews
for Severn, MD
Heidler Inc
Rated
4.9
out of 5 stars based on
16
customer reviews
Powered by Nearby Now
---
Great experience
Donald

-

Severn

,

MD



Review of Heidler Inc
---
Great service and dependable workmanship.
Norman

-

Severn

,

MD



Review of Heidler Inc
Very good experience. On time, great service, and excellent work.
---
Knew his stuff
Mike

-

Severn

,

MD



Review of Heidler Inc
Technician knew exactly how to solve the problems presented and was able to explain how we could prevent them from occurring in the future. Fixed our sink, sump pump, and toilet in good time with no further complications. Technician was also very friendly and dealt with our loud dogs quite well.
---
Great service
Andrew

-

Severn

,

MD



Review of Heidler Inc
Courteous staff, got the work done quickly. Kind towards my dog and understanding of the state of my home (he is also a parent). Honored the quote we had agreed upon one week prior to service. Will recommend company to family and friends.
---
Great
Archbishop

-

Severn

,

MD



Review of Heidler Inc
I was very pleased with service.
---
Justine A.
Performed 2 gas log maintenance and gas leak repair.
Near
Truitt Ln,

Severn

,

MD

21144
Carol T.
Toilet stoppage cleared with auger.
Near
Wet Sand Dr,

Severn

,

MD

21144
Carol T.
Replace pilot assembly on gas log
Near
Sea Pine Cir,

Severn

,

MD

21144
Carol T.
Investigated high water bill, found break in service line.
Near
Harmer Ct,

Severn

,

MD

21144
Kae A.
high water bill
Near
Harmer Ct,

Severn

,

MD

21144
If you are looking for professional plumbing solutions that ensure long term efficiency, look no further than Heidler, Inc. You can always expect flat rates and superior service. Call today at (410) 268-7191.