Annapolis Gas Log Fireplace Repair & Installation
Get the comfort of a fireplace without the mess. Call Heidler, Inc. at (410) 268-7191 to work with your Annapolis gas log fireplace experts. Whether you are looking to install or repair your system, we will make sure you receive top-notch service.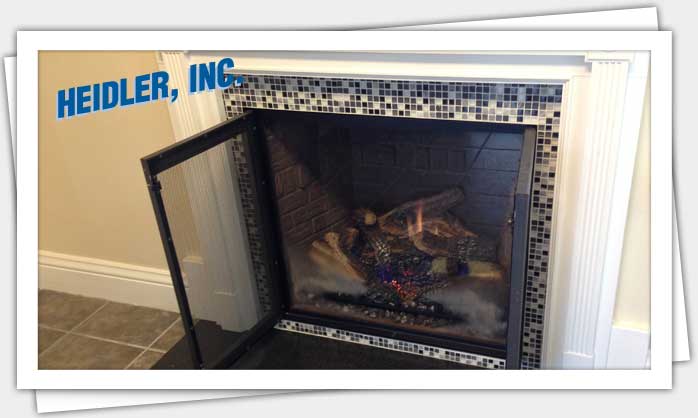 Are you looking to install a brand new fireplace, or want to replace your traditional one? We can help. Heidler, Inc. is your local Annapolis gas log fireplace repair and installation team.
There is a certain comfort from sitting in front of a glowing fire. However, cleaning up a traditional wood-burning fireplace can be a hassle. In addition, stocking up on firewood is another inconvenience homeowners like you don't have the time for. This is why we recommend installing a gas log fireplace to minimize your inconvenience while maximizing home comfort.
Gas can be very dangerous, so it's important to always have a gas line repair and leak detection company on hand.
What are the advantages of gas log fireplaces?
Take a look at these benefits you can start enjoying with a new gas log fireplace:
Since you are not burning wood, gas log fireplaces are much simpler to maintain. Logs are designed to look similar to wood, so visitors will not be able to tell the difference (unless they look very closely).
Gas log fireplaces make it easier to maintain the temperature. You won't have to rely on the uncertainty and unpredictable nature of firewood. Warming your home is as simple as turning on a valve. No more waiting around for a fire to be constructed from scratch.
Gas log fireplaces are also safer to use. Your home will not smell of burnt wood, and you won't have to breathe in the smoke from the wood after turning it off.
Is installation simple?
Converting your fireplace to accommodate a gas log system is a simple project for our heating technicians. We recommend enlisting in professional help to reduce risk of malfunctions and other safety hazards.
What process do our licensed and insured heating technicians follow?
We first run a gas outlet to the firebox that is going to be used for the log.
The valve must remain turned off until the hardware is in place and ready to test.
Inside surfaces must be completely cleaned from ash, soot, and leftover debris from previously burned wood before new installation can begin.
The grate and burner are placed inside the firebox in the most aesthetic position that is also safe and functional.
Gas supply lines are carefully attached, sealed, and tested with attention to safety when operating.
How often should maintenance take place?
A gas log fireplace does not require much maintenance. There is little mess from soot and ash, and there are few components to maintain.
However, we do recommend having at least one annual inspection before running the gas log fireplace, especially after it has remained unused for an extended period of time. During routine inspection, your technician will check for leaks and make any necessary repairs.
We also offer professional boiler repair in Annapolis.
Brands We Service
Do you need to repair your existing gas log fireplace? Perhaps you would like to convert your traditional fireplace to accommodate a gas log unit. Whether you need to repair or install, we are the team to call. Contact Heidler, Inc. today at (410) 268-7191 for upfront rates.