Annapolis Heating Repair & Installation
Is your boiler having problems? Looking to install a gas log fireplace? Call Heidler, Inc. today at (410) 268-7191 to work with your reliable Annapolis heating experts.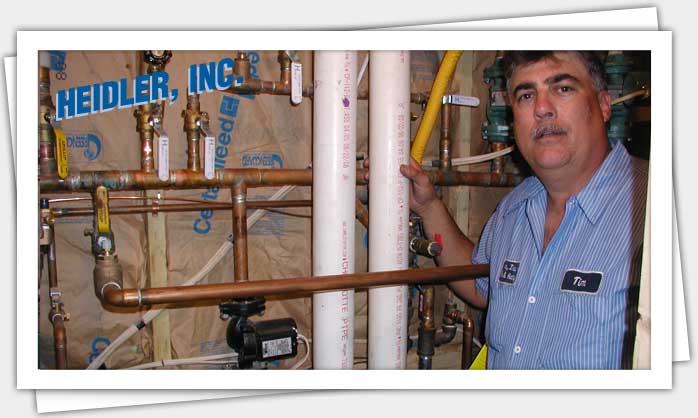 Has your heating system failed with winter approaching? Make sure you are ready for the cold weather ahead by having your heating system repaired, maintained, or replaced. Heidler, Inc. is your local Annapolis heating contractor dedicated to quality solutions when it comes to your boiler, gas log fireplace, radiators, and more.
Call Heidler, Inc. today and ask about our boiler repair services!
How often should heating systems receive maintenance?
In general, your heating system requires maintenance at least once a year before the winter season.
Gas heating systems: These types of heating systems should be inspected and cleaned on an annual basis to ensure efficiency. Gas appliances run the risk of emitting toxic gas into the air, which is why regular inspections are crucial. Call us immediately if you notice any problems.
Oil heating systems: Oil heating systems should be inspected and cleaned every year by your oil delivery company. Hydronic components should be inspected every year or two as needed by your plumber.
Boilers, radiators, and steam convectors should also be inspected on a yearly basis. Routine inspections allow us to identify potential problems (such as small leaks) before they develop into larger issues.
Regular heating maintenance can help extend the life of your system:
Non-condensing copper core boilers last 15-20 years
Non-condensing steel core boilers last 10-15 years
NEW non-condensing cast iron core boilers last 20-25 years
OLD non-condensing cast iron core boilers last 30-50 years
Steel tube boilers last 20-40 years
Condensing cast aluminum/stainless steel boilers last 10-20 years
How long your heating system lasts will depend on the quality of the product and how well it is maintained. All heating systems have the potential to work much longer with preventive maintenance. The most effective way to ensure its efficiency is to have your system checked every year—ideally before winter begins.
What are signs you need to repair or replace your system?
While we provide comprehensive inspections and tune-ups, you can also do your part to maintain your heating system. This includes being aware of trouble signs and calling for professional help once anything unusual surfaces.
Heating systems show signs of failure through uneven heating, running on more energy than usual, or emitting strange sounds. All of these are signs that a repair or replacement is needed to maximize your heating efficiency.
Our team wants to help you keep your gas log fireplace working safely and efficiently!
What are easy ways to save on your heating bills?
Looking to save on your next heating bill? Below are simple ways you can start reducing energy costs:
Use heavy curtains to keep warmth in while keeping the cold out
Use fans sparingly to keep heat from dissipating
Schedule regular maintenance to make sure your heating system is not losing its efficiency
If your heating system is experiencing problems, call us and we will provide you with the solution you need. Our technicians are experienced in repairing and installing hydronic and steam heating systems.
Tired of the same problem recurring in your heating system? Trust the experts at Heidler, Inc. for professional, cost-effective solutions. 24/7 emergency assistance is available when you call (410) 268-7191.