Annapolis Burst Pipe Repair Services
Are your pipes rupturing from constant freezing and thawing? Have they sustained damage that is causing them to leak? Call your Annapolis burst pipe repair experts at (410) 268-7191 for fast solutions.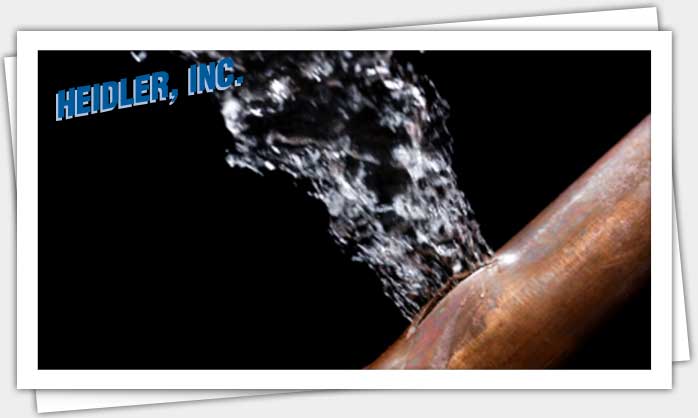 Your neighbors have been relying on Heidler, Inc. for over 60 years. We get the job done when it comes to emergency situations such as burst pipes. Our technicians are your reliable Annapolis burst pipe repair specialists delivering the results you need. Our emergency services mean you will have your problem solved no matter the time or day.
No matter what plumbing emergency you're facing, Heidler, Inc. is here to help! Ask about our emergency plumbing services in Annapolis today!
How can you avoid burst pipes?
As a homeowner, you know that burst pipes can lead to costly problems:
Higher water bills
Property damage
Mold growth
By understanding what causes burst pipes, you can take the right steps to prevent this problem.
One of the most common causes of burst pipes involves freezing temperatures. When water freezes, it expands inside the pipe. This increases the pressure on your pipes, causing them to burst. Pipes can also rupture or develop leaks due to wear and tear or deterioration with age. Even soil settlement, the settlement of your home's foundation, and invasive tree roots can lead to burst pipes.
While you may not be able to fully prevent your pipes from bursting, you can lower your chances of experiencing this problem by taking certain measures.
Insulation: Wrapping outdoor pipes can protect them during freezing weather. Allowing faucets to drip until the temperature rises above the freezing mark is also helpful.
Inspections: If you live in an older home, call us for a thorough plumbing inspection. This can alert you to any problems and give you detailed information about the condition of your pipes.
Replacement: If your pipes are deteriorating, repiping may prevent major leaks. You should also avoid planting trees near any water or sewer lines to keep tree roots from growing into your pipes.
You can prevent burst pipes by keeping your drains well-maintained. Ask about our drain cleaning services today!
What can we do for you?
While following these tips can minimize your chances of experiencing a burst pipe, problems can still develop. If you are in the middle of a burst pipe emergency, immediately shut off your home's main water supply. After that, call us for help.
We will arrive as soon as possible to pinpoint the location of the leak and make necessary repairs or replacements. Our plumbing team will give you more information about the best repair process for your property once we have inspected the damage.
Call us at (410) 268-7191 for burst pipe solutions guaranteed to leave your home's plumbing system in better condition.